Welcome to the Hopewell Fish and Game Association Steel Shoot event page!
Shoots are 1st thursday of the month (22 caliber) & the 3rd thursday of the month (center fire)
from 6pm until 9pm. OPEN TO THE PUBLIC

Fees: $15 Donation for guests, and $10 for members (all proceeds go back to the club's General Fund) for 2 trees of 6 and 6 poppers for three hour shoot.

Come and join the fun at the Hopewell Fish and Game Pistol Competition Shoots!

ATTN MEMBERS:
Any member interested in helping at these events for service hours, please contact Phil Seaks at 717-495-4124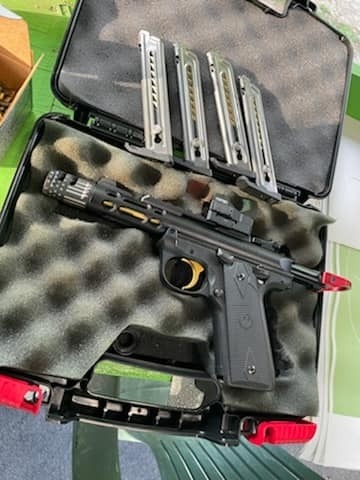 2023 Shoot Dates:
March 2nd
March 16th
April 6th
April 20th
May 4th
May 18th
June 1st
June 15th
July 6th
July 20th
August 3rd
August 17th
September 7th
September 21st
October 5th
October 19th
---
MONEY SHOOT 10/22/2023
THIS JUST IN!!!! OPEN TO THE PUBLIC | STEEL MONEY SHOOT October 22nd, 2023
Practice starts at 1PM
Shooting starts at 2PM
32 SHOOTERS (you must register on-line...CLICK HERE
https://form.jotform.com/200714612560142
)
$25 Donation "buy-in"
4 SETS OF PRIZES!
SPECIFICS:
22 Caliber
1PM START TIME with ONE PRACTICE ROUND (unlimited practice shots)
10 SHOT MAG MAX
2 Trees, Bracket Style
Texas Star for time.
NO HOLSTERS! NO CARBINE, NO RIFLES! HANDGUNS ONLY!
RAIN OR SHINE
FOOD AND BEVERAGES FOR PURCHASE AT THE EVENT!
If you have any questions, please call Committee Chair, Phil Seaks at 717-495-4124.